Briland Modem Leads Communication,
Relief Efforts for Local Area

When Hurricane Floyd hit the Bahamas in September 1999, longtime islander Kimberly King-Burns knew people off-island would be desperate for news of loved ones and property in Harbour Island and Eleuthera. So she put to work her skills as founder of a Los Angeles-based new media communications firm and set up an electronic bulletin board for residents and visitors, now known as the Briland Modem at Briland.com . She rallied the news-gathering and resource efforts of her mother, long-time resident Sharon King, and sisters Karol King-Black of Atlanta, Georgia, and Kristi King-Lahache of Paris, France; art director brother-in-law Gene Black (who designed the logo); and attorney hubby Elkanah, who created the Briland Modem Fund as a 501(c)3 not-for-profit organization. Glenroy Aranha of Aranha Construction, Comm. Rufus Johnson, Gregory Higgs of Higgs Construction and Richard Haskell of Dunmore Cottage rallied the local troops to coordinate hurricane relief.
Hundreds of people left messages those first few frantic days, and Briland.com quickly grew into more than just a lifeline: it disseminated practical information for the relief effort and established a fund for contributions to rebuild damaged islanders' roofs. Over $25,000 was contributed by generous individuals from around the world. One generous couple in particular donated 5,000 diapers and baby formula to the Harbour Island Day Nursery.
The site has archived its past, so visitors can browse all the exchanges dating back to its birth September 16. By the end of October, Briland.com had accumulated 200,000 "hits" by visitors from more than thirty countries around the world.
The success of the site inspired Kimberly to explore expanding its scope and making it a permanent part of the community, a virtual Fig Tree of sorts. Teri Murphy enthusiastically signed up as the site's first ambassador, and put her HTML design skills to work. And thus was born the new Briland.com, complete with message board, information about local businesses, FAQs for first-time visitors, and the early monthly journal named "The Fig Tree" in honor of our dearly departed friend.
The most important service Briland Modem provided that first month was creating a safe place for the range of human emotion after such a storm -- from people letting off steam to others offering prayers and encouragement -- all of it a celebration of the spirit of the island. This newly sprouted "Fig Tree" virtual island news team intends to carry on that spirit.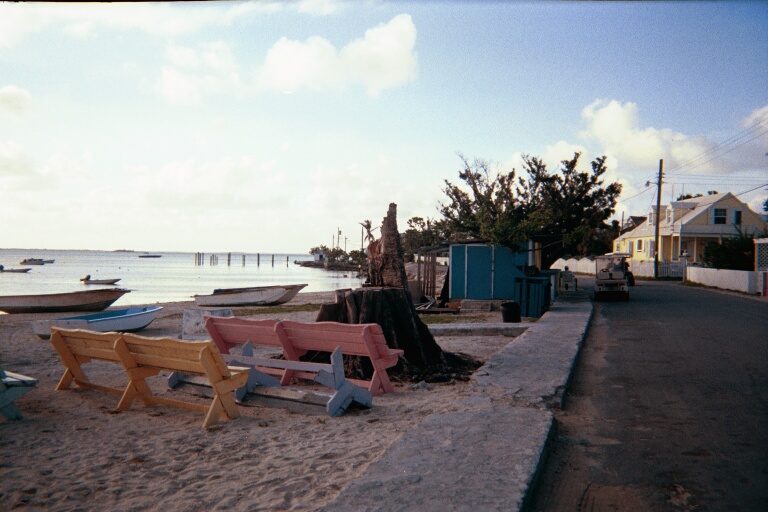 The Fig Tree, 1700s-1999 (R.I.P.)