| Briland.com | Fig Tree- Main Page |

The Fig Tree

Offbeat news and upbeat thoughts from Dunmore Town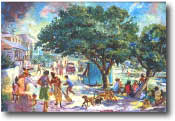 Volume IV
In this issue:
| Oh, What a Lovely Surprise |
| Harbour Island Teacher of the Year Says Reading is Key |
| New Political Parties Formed in January |
| The Harbour Island Police Department |
| The Harbour Island Report |
| Important Information on Work Permits |
| Harbour Island Beach Cleanup Millennium Project |
| Got Satellites? |
| HISTORY OF THE BAHAMAS: Part I | Letter to The Editor |


Oh, What a Lovely Surprise
The very first Miss Bahamas now resides on Harbour Island
By Brenda Barry, The Landing Hotel & Restaurant

There was a note on my desk that morning when I arrived at the American Consulate General's office that the Consul Benjamin Hauck wanted to see me in his office. I had recently been given a raise in salary and did not think that the Americans wanted to give me more money, but who knew? Mr. Hauck greeted me warmly and informed me that he had entered my name as a candidate in the upcoming Miss Bahamas Beauty Pageant.
Mr. Hauck excitedly informed me that he felt that I was the perfect person who would be a good ambassador for the Bahamas, and that the Pageant was going to be a grand affair with interesting prizes and travel opportunities that awaited the winner. I did my best to hide my annoyance at this intrusion into my private life. I had no interest in parading around in front of complete strangers who would judge me on physical appearance alone.
As it was, I had been accepted at St. Anthony's Hospital in Surrey, England to study nursing, and was leaving at the end of the year. I viewed these competitions as superficial and the preparations for same as a bloody waste of time. I adored Mr. Hauck, though, who had taught me so much in my position as receptionist/typist at the American Consulate General. I decided not to disappoint him and endure the upcoming weeks.
There were many parties, dances, beach picnics and boat trips for all of the contestants at which I enjoyed myself, although I was not too excited with my prospects, having seen the other girls and deciding that I'd place third. Seeing the third-place prizes encouraged me to continue.
The first judging was held on a Saturday night, with three contestants were chosen and the finals judging scheduled for the following Saturday. I was one of the three selected. It was a week of great controversy, you see, as one of the judges was an uncle of the finalist who was expected to win.
She was really quite beautiful and would win with or without the uncle, in my opinion. The following Saturday at The Cat & Fiddle Club in Nassau, the place was packed to capacity with enthusiastic supporters of the three girls. My entire neighborhood -- so very loyal, supportive and clannish -- turned out in full. My mother, as a nurse and midwife, had brought many of these supporters into the world, and so it was double support for me.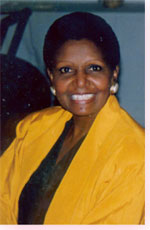 Briland's own Brenda Barry,
owner of the Landing Restaurant & Hotel,
was the first Miss Bahamas.
All Fig Tree photography this issue by Sharon King.

We paraded and were interviewed for the judges so as to help them make their final decision, and then escorted off stage. We were then called individually for the FINAL question.
I was called first and was happy to have it finally come to an end. The question was: "As we are neighbors with communist Cuba, should we as Bahamians worry about the communist influence?" I smiled and answered, "In spite of our geographical proximity to Cuba, the Bahamas has always shared a close alliance with the United States and as a result of this support and the United States anti-Communist stance, we should have no cause for concern."
I remained on the stage while another contestant came out, who had been unable to hear the question or the answer. Second answer to the same question was "I do not think so."
The favorite to win walked out to cheers and screams from her supporters. The question was asked, she seemed quite nervous, and as the pressure from her supporters was enormous - not to mention that having her uncle as a judge had made local headlines -- she smiled and answered "I do not think that we have to worry."
After these answers, my group went wild screaming "Brenda's got it! Brenda's got it!" The five judges stood individually to call out their choices for runner-up and winner. The first judge was the favorite's uncle, and he stood and called his niece as runner-up and me as the winner. I was flattered and quite pleased. The other four judges did the same and voted the same way. In the audience someone called out "Oh Lord, it is unanimous."
I was a bit confused, and thought that I had been elevated to second place and stood smiling. Someone pushed me gently forward, someone else placed a cloak around my shoulders, a crown was placed on my head, a trophy and flowers were thrust into my hand and I was instructed to walk down the runway.
My mother shouted "That's my girl, that's my girl!" Then I saw the tears on her face, saw my friends laughing and jumping on chairs in the audience, photographers crowded around and then realized I had won. This was not longer a superficial competition and a waste of my bloody time. I had won Miss Bahamas. This was responsibility, commitment and such a wonderful, lovely surprise.
The Landing Hotel & Restaurant P.O. Box 190 Harbour Island, Bahamas
Tel: 242-333-2707 Fax: 242-333-2630

Harbour Island Teacher of the Year Says Reading is Key
By Teri Murphy
Staff and students of the Harbour Island All Age School have named Patrice Gail Davis Teacher of the Year, and Miss Davis has also ranked fourth among all the teachers of Eleuthera. In her fourth year of teaching at the school, Miss Davis teaches grades 7-12 with a homeroom assignment for grade 11.
Reading is the key to success for the Island's students, she says. "The more students read, the better they do." And she adds that those students whose parents take an active role in their education are the ones who read more and succeed. In order to encourage reading in her classes, Miss Davis brings passages with references from everyday life for her students to read and also has them type the passages.
A native of Harbour Island, Miss Davis's future plans include studying for a bachelors degree in computer science at the College of The Bahamas in Nassau. As the typing teacher, she is already instrumental in preparing students for the computer classes expected to be in place soon. The school currently has a room with 12 PCs and a newly donated Macintosh and expects to have a computer teacher next year.
New Political Parties Formed in January
From the Bahamas Dateline, VOLUME 21, NUMBER 7, FEBRUARY 19, 2000

Two new political parties, the Peoples Labour Movement and the Coalition for Democratic Reform, were formed in January. The Peoples Labour Movement was formed by members of the Bahamas Trade Union Congress and is led by Obie Ferguson who is also Union president. The Coalition for Democratic Reform was formed by Dr. Bernard J. Nottage, Opposition PLP member for Kennedy. MP Nottage made his official resignation from the PLP in the House of Assembly on January 25, but will remain as a Member of Parliament for Kennedy. Dr. Nottage said that he has accepted the position of interim CEO for the new party until a convention to be held later. The CDR has 200 members.

Perry Christie, leader of the opposition PLP, said that he regretted Dr. Nottage's departure from the PLP, which has the fewest members in Parliament in its history. PLP Members of Parliament that remain in the House of Assembly are Perry Christie, MP for Centreville; Phillip Galanis, MP for Englerston; Cynthia Pratt, MP for St. Cecelia; and Bradley Roberts, MP for Grant's Town.
The Harbour Island Police Department
THE HARBOUR ISLAND POLICE DEPARTMENT: A Fig Tree Update

The Harbour Island Police Department is a part of the North Eleuthera Division of the Royal Bahamas Police Force, with territory includes all land north of the Glass Window Bridge, including the settlements of Current, Current Island, Lower Bogue, The Bluff and Spanish Wells, Eleuthera. Inspector Ricardo Taylor, who resides in Harbour Island, heads this division.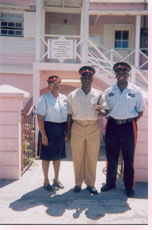 Inspector Taylor and his staff,
Women's Reserve Cpl. 260 Saunders
and PC 1901 Fred Callender,
are always 'open to the public.'

At present the Harbour Island Police Department is comprised of eight (8) full time officers, including Inspector Taylor, Sergeant 38 Kent Butler, Sean Thurston, 976 Dwayne Lewis, 1391 Tamiko Ferguson and Woman Police Constable (WPC) 2406 Sherima Farrington. There are four part-time Reserve Police Officers, including Reserve Constables 256 Sean Major, who operates the "Lady M" Water Taxi, his brother 257 Wayne Major, who operates "Big M" Taxi Service -- and also known as 174 Wayne by VHF radio -- 265 Sylvanis Petty, one of the four electricians on the island, and Woman Reserve Constable 260 Marsha Saunders who operates the Bahamas Ticket Office and would be more than happy to make your reservations. None of the full-time officers are natives of Harbour Island at this time, but at one time or another were transferred from Nassau. In the Bahamas, a Police Officer has jurisdiction on any Island he goes to, throughout the Commonwealth of the Bahamas.

The main goal of the Harbour Island Police Department is the protection of the local, winter residents and visitors on the Island, which calls for a great deal of commitment, dedication and loyalty. The Harbour Island Police Station never closes. We believe that it is imperative that we maintain both mobile and foot patrols day and night, to ensure the safety of our residents and visitors. Most of the time this calls for officers coming to work on their spare time and days off, which we are not paid for, but are glad to do.

Crime is not a serious problem on Harbour Island. There are rarely violent crimes committed. We would like to, however, encourage people to the island to be smart, and not to get to relax while enjoying the Island. Remember that anywhere you go in the world today, there is an element of crime. You must at all times secure your valuables and take some precautions.

Our station is located downstairs in the Government Administrative Complex at Gaol Lane, and is not only open to people when they have a problem. We encourage people to visit and chat with us. If you need any information, we will be happy to get it for you or direct you to someone who can. If you just want a photograph we are always happy to pose for you or with you in our beautiful uniforms. The Harbour Island Police Dept does not wish only to protect and serve; we also want to make friends.

The Harbour Island Report
By Franklyn Mather

TOURISM NEWS
Hotels in Harbour Island are very busy this February and March. All Hotels are recording 100% occupancy rates. Winter residents have also returned to enjoy the sand, sea and sun of Briland.

LOCAL GOVERNMENT ELECTIONS
Tivar Major was elected on March 24th, 2000 as the newest member of the Harbour Island Local Government team. Tivar is presently a local taxi driver.

Important Notice- Work Permits
Bahamas Dateline, VOLUME 21, NUMBER 7, FEBRUARY 19, 2000

Mr. O.A.T. (Tommy) Turnquest, the new Minister of Public Works, Immigration and National Insurance, warned individuals working in the Bahamas that they must have a work permit before they start working, and they must make application for a work permit while not in the Bahamas. Foreigners, if found working in the Bahamas before being issued a work permit, will be refused a work permit.

If you have a work permit and it will expire soon, it is necessary that you renew your permit before its expiration date, giving sufficient time for the government to process the renewal before your present permit expires. If you have a Bahamian spouse and the two of you are living in the Bahamas, you may make application for a work permit while in the Bahamas. You are not expected to leave your spouse and the country to make application. If you and your Bahamian spouse are residing outside of the Bahamas, it is better for the non-resident to make application for a work permit while outside of the Bahamas, but not necessary. The time required to process a work permit varies.

Mr. Turnquest stated that when there is a genuine need of expertise and when the non-citizen can provide knowledge and technology that would otherwise not be available and would have a positive influence on the Bahamas, there will be no problem with issuing a work permit. If a Bahamian has the expertise, knowledge or technology to fill the position and the Bahamian is available for work, a work permit will not be issued to a foreigner. The Bahamas will continue to put Bahamian citizens first.
Harbour Island Beach Cleanup Millennium Project
By Humphrey Percentie, Jr.
As you know, Harbour Island has the most beautiful pink sand beach in the world. It is our obligation to carry this beauty forward by keeping our beach the cleanest in the world. Last fall, Hurricane Floyd transformed our beach in many ways. The erosion was immense, but with time the beach will regain its composure. There was a vast amount of bottles, plastic, tar and refuse that was deposited on our beach during the hurricane season.
This will not simply disappear with time. In a period of a few short weeks after Floyd hit, there were more than 45 truckloads of driftwood and 230 bats of garbage hauled away from our beach. This was only the beginning.
Mondays, Wednesdays and Fridays, Humphrey Percentie Jr., Vic-Hum Club owner and manager, along with two other workers, cleans beach from Ms. Pyne's Estate in the North to South Bar Estate. We remove cans, bottles, ropes, tar, plastics and garbage that floats onto our beautiful beach.
We are proposing a program that will be the special millennium effort from Thanksgiving to Easter in which we will survey and clean our beach every morning form 6-9am. We are also planning to have a program where the entire beach will be raked from Christmas and Easter.
"Rake the Whole Beach"
Hotel owners, homeowners and local businesses will be asked to support the project for everyone's benefit. All contributions are by check and can be given to our spokesperson, Miss Judy Allen, at Coral Sands Hotel. If you have any questions, please contact her at 242-333-2350 or via e-mail at coralsan@batelnet.bs. For more information, the Millennium Project can be reached via P.O. Box 61 - Harbour Island, Bahamas Tel: 242-333-2161. Let's work together to keep our island clean.

Got Satellites? Space News Discovers The Briland Modem:
IRIDIUM USERS WARILY CONSIDER SWITCH TO GLOBALSTAR
By Ben Iannotta

KEY WEST, Fla. -- Well-heeled residents of the Bahamas, who rushed to buy Iridium satellite phones in the wake of last fall's Hurricane Floyd, are feeling burned by news of the Iridium system's demise. But not so burned that they will not consider giving the new Globalstar constellation a try when it becomes available.

"I'm getting inundated with questions. Is Globalstar the real deal? People don't want to get burned again," said Kimberly King-Burns, a part-time resident of Harbour Island and the producer of an online message board for Bahamians called the Briland Modem, located at www.briland.com. "Briland" is how local Bahamians refer to Harbour Island, King-Burns said.

For now, the questions about Globalstar are moot because the 48-satellite constellation, built by Space Systems/Loral of Palo Alto, Calif., does not yet serve the Bahamas.

The Globalstar satellites cannot pass calls between each other, which means they must transmit calls via ground relay stations called gateways. If there is no gateway in an area, there is no service. A new gateway in Puerto Rico will serve the Caribbean and Bahamas, but the facility is not scheduled to open until late summer, said Globalstar spokesman Mac Jeffery.

Thanks to September's Hurricane Floyd, handheld satellite phones have become a must-have for those on the islands who can afford the $1,500 handsets and per-minute calling rates, King-Burns said. "This is not a luxury. It's the only means to communicate with the mainland" for months after a major hurricane, she said.

King-Burns said the Briland Modem board sold 35 Iridium phones in the aftermath of Floyd. She estimated there are thousands of Iridium customers in the region including resort operators, government officials and hurricane relief workers. Normal phone service only recently was restored to some areas, she said.

On March 6, Motorola Cellular Services Inc., a primary marketer of Iridium services, began advising customers in writing that the Iridium system might be turned off. The letter said nothing about refunds, and a special Web page set up by the company does not mention the issue either. However, Motorola spokesman Scott Wyman said in an interview that people who have bought Iridium telephones from Motorola since January would be eligible for refunds.

On March 17, Iridium's attorneys informed the U.S. Bankruptcy Court for the Southern District of New York that attempts to find a bidder qualified to take over the struggling company had been unsuccessful, forcing the company to end service at 11:59 p.m. EST that day, dismiss most of its employees and ask Motorola to begin deorbiting the low-Earth-orbit satellites. The Washington-based company asked the court to release $8.3 million to cover the costs of winding down Iridium's operations and said it would move its remaining employees to offices in Reston, Va., to oversee the disposal of Iridium's ground-based assets.

The only publicly identified bidder for Iridium was Eugene Curcio, president of Venture Partners Inc., Rolling Hills Estates, Calif. Curcio told Space News he planned to use the Iridium satellites to provide telephony service to underserved parts of the world for between 30 and 50 cents per minute. Existing Iridium customers would have been able to keep their service under the plan, Curcio said.

Some Iridium customers are furious that they were not given more notice of the system's impending shutdown nor offers of refunds. Richard Haskell, a part-time resident of Harbour Island, is one of them. He said his son is sailing around the Caribbean on a 30-foot sailboat and was counting on his Iridium phone as a safety device to go with his marine radio and emergency satellite beacon system.

Although Haskell said he would consider buying a Globalstar handset, he said he will be wary this time. "Nobody's going to lay down $1,500 again without some assurance that if [they] go out of business, [they'll] give you back your $1,500. I can't imagine that the market won't be sullied badly by this," Haskell said. Haskell said he has submitted a demand for a refund in writing to Motorola, but he has not heard back from the company.

Globalstar's marketing plan does not include assurances about procedures in the event of failure, Jeffery said. "No company offers you a service, and says, 'Oh by the way, we'll give you a refund if we go bankrupt,'" he said. Jeffrey said Globalstar is convinced its service will be a success and that company officials are not even talking about bankruptcy scenarios.

King-Burns said her advice to Globalstar is to focus on honest marketing. "You've got some real snake oil salesmen out there," she said. King-Burns said she learned through her own research that her region is not yet served by Globalstar. Jeffery said Globalstar has gone out of its way to tell customers that the company is rolling out its service step by step. "We learned a lot of lessons from Iridium. One of the them was you don't overhype this," he said.

Globalstar's U.S. service provider, Globalstar USA, which also will serve the Caribbean when Globalstar's Puerto Rico gateway begins operating, is offering Iridium customers rebates of as much as $495 to entice them to switch, said Toni Carinci, a spokeswoman for Globalstar USA, Walnut Creek, Calif. Although Globalstar service is not yet available in the Bahamas, Carinci said Iridium subscribers in the region are eligible for the rebates and can contact Globalstar distributors to make arrangements to take advantage of the offer.

Iridium phones never became hot sellers in the Florida Keys, a chain of islands in the southernmost part of the state that escaped Floyd's wrath. Carl Aufrecht of the Keys Sea Center on Big Pine Key said he sold seven or eight of the phones for $1,495 and $2.35 a minute. "To have that security on your boat, that's cheap," he said. "But in order to get it into the hands of a lot of people, the handsets are going to have to be a lot cheaper." Globalstar phones cost about the same as the final Iridium price of $1,500, but Globalstar is promising per-minute rates of $1.50 or less. Jeffery predicted the handset prices would go down, but he could not say by how much.

Aufrecht said he doubts a satellite phone company can survive based on the post-hurricane emergency market. "A system can't be supported by people who are letting the phone sit there waiting for a hurricane. The system needs continuous service," he said.

"There's no individual market that's going to be a million phones. But collectively, you add it up and it is attractive," Jeffery said. Some people in the Bahamas are hoping Globalstar will be ready by the peak of the next hurricane season. "I think [Globalstar] is going to have a windfall. We here in the Bahamas are petrified of the 2000 hurricane season," said Sharon King, Kimberly's mother, speaking from her home on Harbour Island.

Staff writer Sam Silverstein contributed to this report from Washington.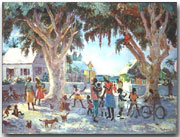 HISTORY OF THE BAHAMAS: Part I
Christopher Columbus discovered the Bahama Islands in October 1492 when he landed on the island of Guanahani, the Arawak name for San Salvador. Columbus was really in search of the continent of Asia, where he hoped to obtain gold, silver, silk and spices. He renamed Guanahani San Salvador, meaning Holy Saviour, and claimed it for the King and Queen of Spain, Ferdinand and Isabella. On San Salvador, Columbus met a group of people called Arawaks or Lucayans-Island People. This Island however, showed no sign of Oriental splendor as Columbus had expected and in the urgent matter of finding gold he soon moved on taking with him several of the Lucayan Indians.
After leaving San Salvador, the Spaniards discovered and explored Rum Cay (Santa Maria de la Concepcion), Long Island (Fernandia), Crooked Island (Isabella) and Ragged Island (Las Islas de Arena). No gold was found. On the 27th October, fifteen days after landing in The Bahamas, the fleet sailed out of Bahamian waters towards Cuba and then on to Hispaniola where some gold was found. The word Bahamas dates back to the age of discovery. It comes from the Spanish word "Baja mar" which means "Shallow Sea". From this word comes the name Bahama Islands-Islands of the Shallow Sea.
THE ARAWAKS OR LUCAYANS
It is believed that the Lucayan migrated from South America to the West Indian Islands in dug-out canoes. Often the Caribs, a very war-like people, chased them. The Caribs ate the Arawak men and kept the women as slaves.
APPEARANCE
The Arawaks were a brown-skinned people, quite tall, with square faces and slanting eyes. They had straight black hair and painted their faces and bodies with red, white, yellow, purple and black mixtures. There were three reasons for this, as the paints carried a religious meaning and magical effects, and helped to keep mosquitoes away. Another custom was to flatten the heads of new born babies by fastening them between two pieces of board. This was partly for fashion and beauty, but it also thickened the bone of the forehead, which was an added protection for them against their enemies of the Caribs.
They led a very simple life. Groups of families shared houses and an ordinary Arawak family house was called a Caneye. They also shared other "things" that they obtained from hunting, fishing and farming. In terms of political organization, the Arawaks were ruled by a chief called a Cacique who was law maker and chief priest. His house was called bohio and was bigger than the other houses, rectangular in shape with a porch for visitors. In the Arawak society there was hardly any crime. Thieves were pierced through with a sharp stick and left to die. The Arawaks gods were called Zemis.
The Spaniards were the first to discover the Bahamas. However, because of its poor soil, lack of anticipated mineral wealth and treacherous waters, they were not interested in settling. Instead, they depopulated the islands by transporting the Arawaks to work in the gold mines of Hispaniola. This happened over a period of twenty years and eventually the Arawaks all died from overwork, cruel treatment and exposure to new diseases brought to the Caribbean area by the Spaniards. After the death of the Arawaks, The Bahamas remained uninhabited for over one hundred years.
To be continued...
Letter to The Editor:
Dear Dunmore Grouper, Editor-At-Large:
In response to all of the reactions to the requests, I wanted to say thank you for your involvement. I am heading up this particular after-school program for developmentally-challenged students, but I think it is important for you to know that all of the donated supplies are shared within the school with those other teachers that hold after school classes for their students as well. I also am involved with similiar initiatives for the special needs students in Eleuthera, so any extra materials will not be unused. The supplies requested are pretty universally needed. To others who would bring supplies, donations of phonics or alphabet flash cards are great, as well as books that graduate levels of reading mastery.
If you are unable to ship it directly to Harbour Island via G&G Shipping in Dania, Florida, then I'd to offer a US address that will get them here as well:
Lang Fincher
4121 Woodridge Rd.
Miami, Florida 33133


When sending supplies to Harbour Island, please address as follows:
Lang Fincher
All-Age Program
PO Box EL27194
Harbour Island, Bahamas
Thanks,
Lang Fincher, April 2000