Where have all the pineapples gone?
BY KATHRYN CAMPBELL Ė The Eleuthera Advocate

Until the devastation of Hurricane Andrew in 1992, the pineapple was the mainstay of some 40 farmers in the settlement of Gregory Town, Eleuthera. An estimated 50,000 pineapples were exported each year from Gregory Town alone. Today, you will be lucky to find a pineapple farmer in Gregory Town, much less a pineapple itself.
When the team from The Eleuthera Advocate visited Eleuthera just days prior to the annual Gregory Town Pineapple Festival, the big question was "would there be any pineapples??" Chairman of the 13th Pineapple Festival Jackie Gibson expressed concern about the scarcity of the popular fruit that once sold by truck loads. "While we will be celebrating and having a big party at the Festival, it bothers me that pineapples may not be there," she said.
Buck Johnson, one of the oldest farmers in Gregory Town, has been growing pineapples for over 60 years. As a young boy, he toiled hard and long every day in the fields alongside his father Ephram Johnson. There were times when Johnson sold over 300 dozen pineapples on the front patio of his home. Now, "there are absolutely none. You may be lucky to find one or two pineapples in Gregory Town," he said. "Plenty people farmed back then. You could buy pines all day and every day. Many farmer went to their fields early in the morning and stayed there all day until nightfall."
Back in Johnson's day there were at leat 60 pineapple farmers. During the pineapple season, which runs between the months of May and August, then at winter, boats travelled to Nassau laden with at least 500 to 600 dozen pineapples at a time. "Everybody was doing pines because we had a demand," said Johnson. "Not many farmers are doing pines now, you may find three to four farmers growing pines," he added grimly. In the past, 12 small pineapples were sold for two shillings (28 cents) and 12 large pineapples for five shillings (70 cents). Today, however, 12 pineapples, small or large, sell for $40.
So just what has happened to this luscious fruit on the island known as the 'Home of the Pineapple?' "The older farmers are dying out and the young people are not interested in pineapple farming," said Johnson. "Pineapples take from 18 months to two years to grow. They could make faster money in other ways."
Salomie Cartwright, one of the few remaining female farmers residing in Gregory Town, has not reaped any pineapples since the Hurricane hit Eleuthera in 1992. "Hurricane Andrew carried every pine I had. The couple of people who had pine suckers did not sell or give them away," she said. "There are only about three people in Gregory Town who are farming pineapples now. Normally by this time you would see trucks upon trucks full of pineapples."
Cartwright is also an experienced pineapple farmer. As a child she spent many days in her parent's pineapple field. She used to tend pineapples with her husband but things were so good that Cartwright decided she wanted her own pineapple farm. "I branched off by myself because I wanted to make my own money," she said. Not only does she grow pineapples but tomatoes, varieties of pepper and other fruits and vegetables. Hurricane Andrew, then Floyd eight years later, swept away everything in their path and like many others, Cartwright believes the Hurricanes also brought along something that would plague the soil for a number of years to come.
Cartwright was asked her views about the scarcity of pineapples. She said, "I think it's something in the soil." Despite the labour involved, Cartwright, who also sews straw work, prefers farming. "The straw work takes a longer time to sell than what I grow in my farm. Sometimes I have straw work for days before I get a sale but my farm stuff sell very quickly."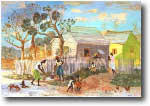 Briland Family Reunion: July 2000
By Mandy Bolen, Citizen Staff Writer

The Bahamian roots of Key West were personalized over the weekend when more than 200 descendants of Harbour Island residents converged in town for the annual Harbour Island Family Reunion Picnic. Harbour Island, which sits at the tip of Eleuthera, Bahamas, was the home to many families that eventually migrated to Key West. Those families and their descendants became the earliest residents of Key West's Bahama Village, and many of those surnames can now be found on both Harbour Island and Key West.
Norma Jean Sawyer, one such descendant, can trace her ancestry back to the Bahamian settlement that is one of the oldest in the chain of islands. She acted as hostess for the hundreds of visitors who share an island heritage. The annual reunion picnic brings together people from all over the country who can trace their ancestors back to Harbour Island, and has been held in Miami, Tampa, New York and Canada. "But this was the first time in its 24 years that the reunion was in Key West," Sawyer said, while rattling off locally known family names that are mirrored in the Bahamas. "All the streets in Harbour Island are the same family names as in Key West."
The Sweetings, the Johnsons, the Majors, the Sawyers and the Careys - all are names that can still be found on Harbour Island, where everyone knows everyone else. Even the island's guide books refer to Harbour Island as the home of the "friendliest people." The descendants of those friendly people shared a traditional Bahamian picnic Saturday at Sonny McCoy Indigenous Park, where a guava duff pastry dessert was brought directly from the islands, along with the popular pineapple coconut pastry. "It was wonderful," Sawyer said. "I meet new people every year."
This year's attendees included Hansel McGee, who came from the Bronx, N.Y., where he is a state Supreme Court justice, as well as Leanore Higgs, the oldest living Harbour Island descendant at 98 years old. The group also was proud to welcome Theresa Manuel to the reunion. Manuel was the first Floridian to ever compete in the Olympics. She competed for the U.S. Olympic Track Team in 1948.
Olympic Successes: The Bahamian women's 4 x 100m relay team won gold and Pauline Davis-Thompson won silver in the women's 200m to highlight a historically successful Olympics for The Bahamas. It was so close to being better as the men's 4 x 400m team just failed to win a medal, fading to take fourth place towards the end of the race. The Bahamas had won gold before in yachting in 1966 with Sir Durward Knowles and Cecil Cooke and a bronze by Frank Rutherford in the triple jump in 1992. After the Sydney Olympics there were calculations made to find the most successful country in terms of population versus medals achieved by the Daily Mail of London. Guess which country won? The Bahamas, by a long way! Just the relay gold gave us first place and Pauline's silver separated us from the field. The US placed 44th using these criteria.
Who Let the Dogs Out? Woof! Woof! Believe it or not, the hottest song around is a Bahamian production, though written by a Trinidadian. The nine-man band Bahamen and their Who Let the Dogs Out? is a theme song throughout professional sporting events in the US. At this early stage it is second only to Queen's We Will Rock You and ahead of the other Queen sporting favourites We Are the Champions of the World and Another One Bites the Dust. The recording has already reached Platinum and is well on its way to Double Platinum. Bahamen performed in October on NBC's Today show, Good Morning America and ESPN and also took part in the subway World Series. Is the song good? Go figure. But wherever testosterone rules, they are playing it. The Bahamas is not new to producing great songs. Funky Nassau was a big hit in the 80's and the spiritual Michael Row the Boat Ashore and Sloop John B , made famous by the Beach Boys, were traditional Bahamian songs.
Unions Miffed: It appears as though neither unions nor employers like the proposed labour bills which were due to be tabled in late October. A sick out by unions on 12th October might have been the catalyst which persuaded government to defer readings of the bills until the more important money laundering bills were addressed. Prime Minister Ingraham returned from a month in Europe discussing the position of The Bahamas in respect of possible Organisation for Economic Cooperation and Development sanctions. Mr Ingraham returned with positive news and felt sure The Bahamas was well on its way to satisfying OECD concerns.
Abaco Champions: Abacom United became soccer champions of The Bahamas on 22nd October when they beat Nassau champions Cavalier FC at Thomas A Robinson Stadium in Nassau by a score of 2-1. Eddie Petit scored for Abacom in the sixth minute and James Julmiste added a second in the 58th minute. from then on it was up to Abacom's vaunted defence to keep Cavalier at bay. Cavalier pulled one goal back but at the final whistle it was the boys from Marsh Harbour who had prevailed.
-- Thanks to the Nassau Guardian, Abaco Journal, Briland Modem which now offers classes in computer instruction, HTML design for the World Wide Web. The community center is wired for Internet access, and Chief Councillor Harvey Roberts notes that the waiting list for registration for the computer training extends well past January 2001. The search is on for a bigger space for the classes. In the meantime, volunteers for onsite afternoon tutorials, weekly classes, and assistance in the technical infrastructure buildout of the community center are invited to note their schedule of availability via the Briland Modem messageboard, for integration into a master schedule for access by local teachers. Kayla Davis, community liaison, is the centerís administrator.
Software, hardware and books donations are always welcome, as the program hopes to expand beyond its present site. It's easiest to ship all such supplies to G&G Shipping, 760 NE 7th Avenue, Dania FL 33004, Tel 1 954 920 0306, attention: Richard Monroe. In the meantime, please remember to clearly LABEL all parcels [marked 'parcel' vs. 'manifest'] for the Harbour Island community center to show being addressed to brand-new Senior Commissioner Alex Williams, c/o Customs Officer Wilson, Harbour Island Community Center. Such clear marking will ensure that your donation is imported duty-free. All U.S. donors to the Community Center buildout should inform the Briland Modem Fund of their offering at info@briland.com, as all such gifts will be acknowledged with a receipt for tax purposes, as the Fund is a 501(c)(3) not-for-profit corporation.
Volunteer-Run Developmental Education Program for Harbour Island, North and South Eleuthera

By Sharon Kossacks, Nationwide coordinator and Lang Fincher, Harbour Island coordinator
The children are currently being shown how to write a business plan, marketing plan, and Andrea Johnson (the bookkeeping teacher) will have them keep the "company" books! The idea is to leave ECC as a whole entity, where they will not have to beg for funds to provide for the children. The children will be able to participate in BizKIDS, an after-school business club open to every child in the community, which produces and markets salable goods. Thus, the kids will be trained in business procedures that will actually generate money so they can do this as adults, and they will have an entrepreneurial spirit.
All proceeds over the cost of production of these materials will go to this special education and literacy project...to buy testing and teaching materials, children's books, and training and special services. With the exception of the special education teachers for the TWO self-contained special ed classes, all of the other hundreds of people who work with ECC (the trainers, those who screen primary children for vision/hearing, after school tutors, Clinical Educators, etc., etc.) are unpaid volunteers. All monies generated go to maximizing the learning for these children.
Regarding next year's Holiday Cards --
You will be able to pre-order cards that are inscribed for your business. You have to purchase holiday cards for your business anyway, why not order cards which make a charitable donation at the same time? That way your friends reflect on the true message of generosity that is the focus of the holidy, your business will maintain the perception of philanthropy, special needs kids benefit directly (both from learning about business and from the proceeds) from your decision and you will not have to pay any more money than you do now (which can be deducted as a business expense or charitable donation...your choice). What's not to like? Everybody wins! For more information, contact kossacks@fiu.edu.
Resources --
Professional Library. Currently, we have the beginnings of a professional resource library started in the HIDC Community Center, which includes all of the strategy cards we have taught over the past five year's of training, helpful kits, professional journals, professional methods books, testing equipment (visual and auditory), some materials. These have always been available to the whole community. The books that are sent over, we have taken directly to the schools. Instead, we are asking visitors to bring books and come directly to read to the children and gift the teacher with the book instead as a means of building classroom/school libraries.
Vision/Hearing Testing. We have an observation checklist that enables one to watch a child and look for symptoms of vision and hearing difficulties. We use the Audiometer and the Telebinocular. If a child is found to need glasses or have a hearing loss, they are referred to a specialist for adjustment. All of this is free.
Literacy Classes. In the Spring, ECC will have benefit of two literary trainers, who will offer training to interested community people in LVA (Literacy volunteers of America) and Laubach literacy programs.
Talking to Myself Along The Beach
By Jim Reno
Looking back upon my island companions, asleep on stolen beach chairs, drunk from Kalik and gold rum, I bid them farewell and stumbled alone down the famed pink sand beach of Harbour Island, Bahamas in search of conversation. The first thing one notices about this beach is that if there is to be conversation, you might as well talk to yourself, because there is no one for miles. Sure, the occasional couple might be walking by now and then, in search of the same elusive conversation I sought, but other than that, no one. Okay, there was one Rasta guy. But, I would rather have exchanged places in life with him, rather than words.
I like walking a little in the water, up to my shins. Dragging my feet a little to give the illusion that I have no destination or place to be at a certain time. Overtly swinging my arms like I did back in the military years ago. Convincing myself that I just don't care who looks at me or what they think, like I do so much back at home. I pondered taking off the only piece of clothing I wore, my swimsuit. But I immediately thought better of that. I'd need a lot more Kalik to feel as anonymous as I wanted to, to blend in with the family jewels on exhibit. So I continued down the beach in search of whatever one looks for in a beautiful place like this with seemingly one thing to offer. Absolute nothingness.
There aren't many shells on this beach. Maybe there are some little ones that the shellhunters haven't yet borrowed for their Bahamian souvenirs for sale on Bay Street. Just a few remaining that visitors to the island hadn't taken home in their bulletproof Samsonite luggage that Mr. Bo Henghy brought over and will gladly take back.
There were a few cool-looking sticks and some sandy, earth-compressed rocks and even one broken sea fan that I left behind, as I certainly had enough of this stuff at home. My wife had quite a large collection growing in our laundry room in California, thinking she'd make some composite craft art piece of our visit to Briland with the scraps she'd found along this beach last year. She's an avid shell-hunter, complete with her beloved Nassau-straw-market-bought-Rasta-guy-made shoulder bag stowing her treasures as she walks this same beach. She asked me once if she could do this for a living, hunting for shells, providing that I won the lottery. Of course, I said yes. I'd even buy them from her, I said.
It was a warm day with little cloud cover, but the humidity was high, so I walked further into the ocean until I was chest-high and feeling relieved. I dunked my long hair into the clear water and flung it back like a supermodel, making a dinosaur-back with the water. I think they may have called him, "Triceratops." Or something like that. I don't know. It's been awhile since I thought of being like a dinosaur.
Back on the beach, I walked along the shore and after a while glanced back. How long had I been gone? My friends were getting smaller and smaller in my rear-view mirror, just like in "Smokey and The Bandit" when Burt Reynolds was flooring the Trans Am and watching Smokey get smaller in his rear-view mirror. "Bye-bye, baby." He sang. Man, at the time, that was quite a car. And Burt was the biggest actor in Hollywood. Heck, they made three of those movies, and one was with an elephant. An elephant!
I figured that if I kept walking long enough, I'd eventually end up where I started. It is an island, right? The more I walked, the more I realized that it might take at least one sequel for me to finish this walk. This island seems small when you're racing around in your golf cart, looking for all that seems interesting, and things that you just can't miss. But, when you're walking, it's huge. I thought again of the Rasta guy. I should've asked him if he had any pot.
Dumb question, unless he was down on his luck. But isn't that what all Americans do when they're in the Caribbean? Try to lose themselves in some culture that they think revolves around a boredom-lessening substance with the locals? "I mean, really. How can these people exist on this island?" If they think that being Rasta or island local revolves around pot, they just don't get it, do they?
My Kalik-buzz was wearing off. The sun was hot. "Come to the islands." The brochure always reads, "The land of sunshine." If I lived here, I'd have to wear nothing but sandals and shorts. The ground is hard and has surprises here and there. Sandals are a must unless you're on the beach. Shorts should be worn just in case someone comes along, right?
So, how did the islanders wear so much clothing? Okay, they're used to the heat. But, why so much clothing? Adornment? Status? I saw some of the local guys wearing long-sleeved Tommy Hilfiger sweaters in the middle of the day. Well, they probably laugh hysterically at the standard-issue tourist uniform of tank top, bathing-suit, and sandals dangling a camcorder or camera, too, but I chuckled at their attempt to look hip in this weather.
Must be hot being hip. Well, we suffer for the look, right? Then again, they're not on vacation, are they? I remembered seeing visitors to my hometown of San Francisco wearing shorts and tee-shirts, freezing their asses off. They don't realize that San Francisco is so much like London most of the time, cold and foggy, save for a few great days. How could a visitor know how a local dresses? Who cares? That's what Kalik does to you, makes you feel local, while dressing like you're at home.
The cliffs to my left bore fewer structures now. I kept on my trek, thinking to myself that I would really like to go see Gusty and enjoy one of his gin/Kalik concoctions right now. It was then that I remembered the time my wife and I kinda broke the rules governing golf cart rental and actually went off-road in our vehicle. The road got so rough at one point that there was nothing but trees and bush around us on a narrow, hilly dirt road. I high-centered the thing once. One of Martinez's horses poked his head through the bush and laughed a horsey-grin.
My wife had once regrettably turned down a ride from Martinez when my buddy and I were lost on one of the island's skinny, beach-like paths. We had picked up sandwiches for Beth from Angela's Starfish Restaurant, and were in a hurry to find her. But we were a little Kaliky, so we laughed it off and I pushed as she punched the gas. The golf-cart was freed.
At the end of the road we came upon a great estate of Palm Grove, which Gusty had told us was owned by the sister of the same millionaire that owned the world-champion Florida Marlins. And built Blockbuster. Perhaps he also owned the Miami Dolphins, but remember, we were Kaliky at that point. The bush-chopping Haitians were busy slicing back the brush and burning what they had removed. I saw the smoke rise in the air from the multiple piles and wondered what they'd do if a great wind came and blew the fire out of control. Run to the ocean, no doubt. I now did the same.
Some narrow, silvery fish darted by me and made my skin tighten. Their eyes always looking left and right -- thanks to placement by God -- and swimming in packs of three or four, they saw me and just as quickly disappeared. I headed back for the beach and continued my ankle-high water journey. If I got hungry, I could eat them, right? Make my stand right here, on this beach. Never go home. Just stay and wait for the darts. It might take about thirty of them to make a meal for this 220-pounder, though. And, like Chinese food, I'd probably be hungry soon after. I regretted not having brought a fishing pole for some shore casting. But, then again, my matches would be useless after my multiple sabbaticals in the ocean. I tried hard to remember my one day of Boy Scout training, but on that particular day they had talked more about how to recruit new members than how to light a fire with driftwood and catch darty fish with nothing more than a bad attitude and some sandy rocks.
At one point, I believed it was time to return to the 'mainland', and it was then, more than ever, that I wanted to continue on my trek. But, the sun was turning orange and daring me to beat it to the ocean, so I turned around slowly and faced my return. The way back is always farther than the way there, right? You've already seen it all and are tired from your trip, no? I faced the sun, the ocean, and the sand, and turned back, wondering why I had come so far in the first place.
On the way back, the wind picked up a bit and blew my long hair over to my right side. At home, I hate my hair being blown about. Here, I could care less. I enjoyed being touched by the low-lying clouds that reached out to me. I felt the power of different sources of the world. The wind, the water, and the earth. Even the sun gave me the fourth element as it continued to warm my bare skin. At this time, I couldn't even see my companions. But, it's pretty simple to navigate the land at the edge of an island. Maybe it was this simplicity that allowed me to ponder as I wandered, the shore being my guide.
I suddenly remembered the library on Harbour Island. The faded books. The age of them all. The section on the United States being all of a foot wide, and just out of reach of the school children. Perhaps they could grab a book on my country when they were taller. But I found myself wishing that that particular section were ten feet tall, so that only the really good basketballers from the island could snatch one. America cherishes its athletes and pays them well. Normal people, below seven feet tall or so, need not apply.
I wanted very much to be the unpaid librarian. The one that put the lock on the Cuban cigar box full of donations in cash, the one that made sure the windows were weather-tight, and that the front doors would actually dissuade a would-be thief armed with little more than a butter-knife. I wanted to guard that sacred library, so full of writing, and knowledge. The place that I had first sat and wondered, "Is this the place where I am to make my mark on the world? Is this where I am called to help?" So full of my own self-want to help. As though this place isn't perfect already.
If I were the island dictator, I would tell the children that some kids could learn to clean conch, others could learn to build buildings, some folks would learn the intricate art of plaiting straw, a few would become expert fishermen, others could become teachers, some would learn to build boats again, some could write books, and still others could learn to sew names like "John" or "Steve" in straw hats that no one would actually ever wear but would pay a premium price for, or best of all... they could learn just how lucky they were to be here in the first place. Maybe, just maybe, if I were in charge, I'd keep Eden just the way it was.
If I were wiser still, I would encourage them to read and learn about the United States as a place that came, saw, and conquered all it could until there was little else but strip-malls and 7-11s in every town across the country. I would tell them what I had learned about the world, and hope to scare them into staying safe, here where God lives. Perhaps that would make them stay here, here in this glorious place.
If I were a realist, I would realize that the reason I donated a computer system to the All-Age School was because I knew that these blessed people were smart enough to reach out and touch the world, and somehow make it better, whatever the risk to all that is immaculate about them and their home.
I realized that the best gift I could possibly give to this enchanted place, its beautiful people, the All-Age School, and Ms. Elodie Ling, the actual librarian at my favorite place, was to leave them alone. Or, better, to be the anonymous visitor on a beautiful beach, on a perfect island, to take nothing but photographs and leave nothing but footprints. And the occasional gift to those to have unknowingly given so much to my wife and me.
I saw a pink-colored shell in the shape of a cone. Granted, it was a small one, but maybe it could bring a dollar to someone if a tourist wanted to bring it home. Perhaps it could adorn the desk pen and pencil set of some Manhattanite. For that, I left it where it lay, in the clearest water I've ever seen on a beach that defies Crayola, Inc.'s best imagination. Harbour Islanders instinctively know that they own something outsiders may never purchase or franchise or incorporate, and that the magic that they hold, that we visit from time to time, will never disappear. The essence of what God gave these people that they know is theirs, is that they smile at each other, and that they hold each other dear. This glorious people: Briland People.
When I finally got back, my friends and my wife were concerned less about where I had been, but more when I would come home. Home was a long way away. Home wasn't Tingum Village, where we were staying the night. Home wasn't anywhere near Gusty's or Queen Conch. Home wasn't even remotely close to Angela's Starfish Restaurant where you must write down everything you want, like a will to yourself. ["What I will leave myself when I die: a conch salad and a Kalik, oh yeah, don't forget the fritters.] At Angela's, she sits behind a window and gives you a pencil and paper, and asks you what you want. Looking back, I should have asked for another pencil, and some more paper.
Epilogue
Beth -- my beautiful wife, otherwise known around the island as, "Lovely Miss Beth" -- thanked me for introducing her to something I held dear that has become to her "the simplest, easiest place that anyone would ever want to be in. It's hard to explain: it's a place that I tell others about. I've given pink sand to very few people. From that gift, they've understood me a little bit better and wanted to visit this place I described. I wouldn't pass pink sand to just anyone, you know? Sure you do. A lot of times, I feel I can take them there, because I'm there everyday."
You see, I had been to Nassau and down the Eleutheran chain a few times before, but when we got married, I wanted to take her to the Briland side of The Bahamas. She trusted me. She has not questioned my vision since. [Yeah, right.]
Love and peace to all.
Beth and Jim Reno
Friends of The Bahamas
From Sabine Hoffman Naus
One of our favourite spots to eat on Harbour Island is the Dunmore Deli, which is situated on a busy corner and overlooks the daily hub-bub of tourists and residents alike. We mostly like to sit at one of the outdoor tables in the bright sunshine where we enjoy our Italian submarine sandwiches accompanied by tall cold drinks. One such day, as we were eating, the ever-present friendly chickens -- usually about 2 or 3 -- flocked about muttering and clucking and pecking up the crumbs on the ground. I happened to get up from the table for a moment, and in my brief absence one of the chickens flew up onto my vacated chair and promptly began to clean my plate. My husband got a good laugh as he shooed the critter away and told me about it when I returned. It was a good thing I had finished my sandwich, 'cos otherwise the chicken would have done it for me!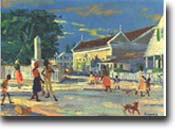 Briland Fictionís Newest Entry
A Bahamian Bedtime Story
By Dr. Ralph Emery
Thirty five years ago this week my grandfather took our family on a Windjammer-style cruise through the Central Bahamas. He had recently turned 65, and the cruise was a retirement celebration. Our party consisted of himself and my grandmother, my mother, my younger brother, and me (age 15 at the time). Originating in Nassau, we visited the Exumas and Eleuthera, finally returning to Nassau to rendezvous with my father who had passed up the cruise due to his profound tendency to seasickness.
The vessel was a large sailing catamaran, the Tropic Rover. She was perhaps 150 feet in length with a huge beam, probably 50 feet. She carried 50 passengers and a crew of ten, skippered by the very knowledgeable and affable Syd Hartshorne. The passengers seemed to gravitate into two groups of roughly equal size, the "Idlers" and the "Wilders". The Idlers included families, retirees, and a few odd gentlefolk. The Wilders were the party animals. The would stumble out of their bunks late in the morning, grumble about having missed breakfast, and slowly gain momentum through the evening meal and on into the night, when they would noisily drink and sing baudy calypso songs at the shipís semicircular bar into the wee hours, much to the dismay of the Idlers. The ship carried two tenders, and we would make day trips to wonderful beaches and islets and small communities. While we explored and snorkeled and fished, the Wilders would find the nearest "yacht club" and boisterously party, much to the chagrin of the shy locals.
One beautiful Sunday morning found us reaching along Eleutheraís western shore. Late in the day we anchored off Governorís Harbour. The Wilders immediately clamored for a shore party, but the Captain told the group that the cook was preparing a special Sunday meal (prime rib) and that we would be staying aboard that night. When pressed by the rowdies, Captain Syd explained that the locals were quite religious, that they spent all day Sunday in church and devotional pursuits, that none of the restaurants, etc., would be open, and that we would go ashore in the morning. The Wilders adjourned to the shipís bar, and after an hour of furious drinking two of them donned fins, jumped ship, and swam to the government dock. They returned a short time later in a small outboard with two local men, explaining that a tavern owner had been persuaded to open at sundown, and that we were all invited. A band had even been found. The captain expressed some doubts, but after discussing the matter with the two young black men, and at the libatious urging of the party animals, he reluctantly agreed to lower one of the tenders for an 8 oíclock shore party.
Ordinarily our little group would not have participated in such an outing, but while we were watching the two Wilders swim ashore my grandfather spied what appeared to be a US military Jeep with a crew of four. He later inquired of the two Bahamians, and they confirmed that there was indeed some sort of "satellite base" on Eleuthera, security for which was provided by US Navy Shore Patrol. This intrigued my grandfather as he was ex-Navy, and he decided that we should go ashore with the others and perhaps have an opportunity to meet the sailors.
The tavern was a small two story affair, but a large patio/dance floor in a garden setting behind the building accommodated our group. The band consisted of two members, a guy with congas and another with an electric guitar and an amplifier the size of the shipís freezer. They plugged microphones into the amp, thus broadcasting a cacophonous off-key blend of profane calypso/rock throughout the entire community. The Wilders were at their worst behavior of the trip, and my brother and I were getting our first look at "The Gator" when our mother firmly yanked us away from the dance floor. The party seemed to quickly end, and we found ourselves out on the street drifting toward the dock where the tender was supposed to meet us.
Sharing the street with us was a small group of locals, men and teenagers, who were obviously displeased. As we began to hurry toward the dock, other men appeared around us, none speaking, all dark and serious. We reached the dock only to discover the tender hadnít arrived; we were a few minutes early. I heard my grandmotherís voice, "Daddy, theyíre picking up rocks!" Indeed, the locals were gathering stones, pieces of wood, things that were obviously weapons. It looked pretty ugly for us.
Suddenly the Navy Jeep with its crew of four came screeching around a corner. The Jeep was quite old, but impressively carried a WWII vintage 50 cal. air-cooled machine gun. The Petty Officer in charge wore a .45 on his hip; we saw no other weapons. Several of the Wilders pathetically beseeched the sailors to "Save us from the mob!" The Petty Officer asked for quiet, then queried, "Did all you people come off that British sailboat anchored out in the harbour." Several responded that we were indeed Americans who just happened to be vacationing on an American boat the just happened to have UK registry. The Petty Officer replied, "I"m sorry, youíre British subjects on British soil, we canít help you." The crowd edged closer.
It was my grandmotherís habit to wear a large straw hat when we were in the tropics. I heard my grandfather take a deep breath, then he snatched the hat from her head and addressed our crowd in a low, firm voice.
"Everybody empty your wallets into this hat, NOW. I want watches, jewelry, anything of value. Do it quickly!" No one hesitated. In short order the hat was filled with paper money, change, bracelets, earrings, the works. He carried the hat to the Jeep and spoke. "Petty Officer," he exclaimed, "I served aboard the USS Pennsylvania in World War One. Several of these men are veterans as well." He offered the hat to the Petty Officer and hissed, "Take this and get us out of this jam." The Petty Officer looked at what must have been hundreds of dollars, then turned to a crewman. "Mr. Grim," he barked, "Rack the Fifty!" A sailor jumped to the gun, leveled it just above the heads of the group of locals, pulled back a large lever on the side the gun which made an impressive metallic CRACK, and no one moved. After what seemed like an eternity, the locals slowly dispersed. Within a moment or so, the tender arrived and we were so on our way back to the ship.
It was a quiet ride. After a time two of the Wilders approached my grandfather and thanked him for managing the situation. He nodded and then smiled, "Hell of a bluff, wasnít it?" My mother, who had up until then been in shock, blurted, "What.?" My grandfather gently responded, "The machine gun, there was no ammo belt, it was empty, Iíll bet it hasnít worked in years." Even in the darkness I could see the color drain from her face.
Back at the ship, Captain Syd gathered the party into the salon and sternly addressed us. "I think we all learned an important lesson tonight. This isnít America, customs here are different, and we all need to remember to honor and respect those differences. Weíre guests here, and itís nothing more than good great luck that the Navy rescued you. And we all owe a big ĎThanksí to our friend from the Pennsylvania." My grandfather stood to hearty applause, and thanked to crowd. The Captain concluded, "Iím ordering the bar closed for the rest of the night. I suggest we all turn in and start over in the morning." There was no dissent.
A short time later, as I lay in my bunk, I heard my brotherís voice. "Are you awake?" he asked. "Yeah, I canít sleep." He paused, then, "When I grow up, I want to be just like Grandpa."
So do I, I thought, so do I.